Rotary Kiln
The rotary kiln is refers to the rotary calcining kiln, belongs to building material equipment. Rotary kiln according to different processing materials can be divided into cement kiln, metallurgy chemical kiln and lime kiln. Cement kiln is mainly used to calcine cement clinker, cement kiln dry process production and wet process production of two kinds of cement kiln. Metallurgical chemical kiln is mainly used for metallurgical industry Iron and steel plant Iron ore calcination, chromium, nickel ore Oxidation roasting. Lime kiln (i.e., active lime kiln) used for roasting plant, ferroalloy plant with the active lime and calcined dolomite.
Cement rotary kiln is the main equipment of cement clinker dry process and wet process production line. Rotary kiln consists of cylinder, supporting device, gear wheel bearing device, transmission device, and the kiln head, sealing device, coal injection pipe device and other parts. The kiln body and the level of the rotary kiln are inclined, and the whole kiln body is supported by a supporting wheel device, and a gear wheel device for controlling the upper and the lower shifting of the kiln body is arranged. In addition to the main transmission, the transmission system is also provided with an auxiliary transmission device which can make the kiln body rotate when the source is broken in the main power supply, so as to prevent the kiln body from bending and deforming. Kiln head, kiln tail seal device adopts advanced technology to ensure the reliability of the seal.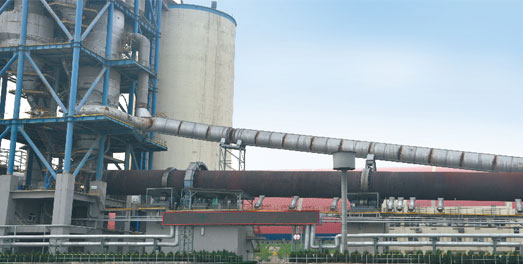 1. Rotary kiln has many advantages, such as great production capacity, high mechanization and automation, strong adaptability to raw material, high activity of its product, stable production operation, perfect environmental protection measures, etc. Therefore, it is widely used in many countries.
2. The rotary kiln has simple structure, and the kiln body is mainly composed of cylinder, bearing, drive, sealing device for kiln head and kiln tail. It has convenient and reliable production process control, less quick-wear parts and high operation rate. It is equipment for cement plants to calcine cement clinker.
3. Through technology innovation, the calcination system of rotary kiln adopts the most advanced hydraulic gear wheel device at home and abroad, and adopts metering plunger pump with high measuring accuracy, high-precision flow speed control valve, contact graphite block sealing device and other domestic advanced technologies. The rotary kiln is easy to operate and its performance is reliable. The thermal regulation being stabilized and the operation rate being improved, compared with equipment with the same specifications, the operation rate increases by 10%, yield by 5%-10%, heat rate reduces by 15%.

Rotary Kiln Technical Parameters
Specifications(m)
Φ4×60
Φ4.2×60
Φ4.3×60
Φ4.8×74
Capacity(t/d)
2500
2800
3000
5000
Kiln body inclination(%)
3.5
3.5
3.5
4
Number of support
3
3
3
3
Catch wheel type
Hydraulic pressure
Hydraulic pressure
Hydraulic pressure
Hydraulic pressure
Kiln speed
Main drive
0.396-3.96
0.4165-4.165
0.398-3.98
0.35-4
Slow drive
8.56
10.35
9.9
8.52
Main drive
Motor
Type
ZSN4-355-092
ZSN4-355-12
ZSN4-355-12
ZSN4-400-092
Rated power(K/W)
315
420
420
630
Spdde range(R/M)
100-1000
100-1000
100-1000
130-1500
Rated voltage(V)
440
440
440
660
Reducer
Type
ZSY630-35.5
ZSY710-35.5
ZSY710-35.5
JH710-SW305-40
Velocity ratio
34.601
35.526
35.714
42.226
Auxiliary drive
Motor
Type
Y200L-4
Y225S-4
Y225S-4
Y250M-4
Rated power(K/W)
30
37
37
55
Spdde range(R/M)
1470
1480
1480
1480
Rated voltage(V)
380
380
380
380
Reducer
Type
ZL65-16
ZSY280-3505
ZSY280-3505
JH220C-SW302-28
Velocity ratio
40.85
35.745
35.714
28.125
Total weight(t)
487.5
576.1
598.5
841